Brand: Truflo by Hindware
Length: 6 Meter/ 20 Ft
Type: SWR
Warranty: Avail the warranty benefits by using Truflo pipes with Truflo fittings & solvent cement
Assembly: Any local plumber can fix it easily
Material: PVC raisin
Pack Content: 1 Pipe

HIGHLIGHT OF THE PRODUCTS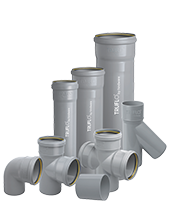 Perfect solution for discharge of soil, waste and rain water
 Ventilation
 Available in 2 variants-Ring fit and Solvent cement jointing
 Fast and easy jointing
 100% Leak-free joints
 U V stabilised
 Wide range of fittings
 Pipes manufactured as per IS:13592 and fittings as per IS:14735
---
PRODUCT AVAILABILITY AND STANDARDS
VARIANTS
SIZES AVAILABLE
PIPE
FITTINGS
Type A – Ring fit
63, 75, 110, 160 mm
IS:13592:2013
IS:14735:1999
Type A – Selfit
40, 50, 75, 90, 110, 160 mm
Type B – Ring fit
75, 110, 160 mm
IS:13592:2013
IS:14735:1999
Type B – Selfit
40, 50, 63, 75, 90, 110, 160, 315 mm
ADVANTAGES OF TRUFLO SWR PIPING SYSTEM:
a. UV stabilized
b. Light weight-The low weight of the system makes it easy to install and reduces transportation, handling and installation costs
c. Smooth internal finish, no scale, no corrosion resulting in better flow rates
d. 100% recyclable
e. Complete SWR range of pipes and fittings-75, 90, 110 and 160 mm
f. Accurate dimensions, ensuring perfect fit and leak free joints
g. Ring fit joint allows for thermal expansion and contraction of pipe
h. Unmatched strength and performance, high operating life
i. Fast installation
j. Cost-effective
A. Installation for Ring Fit Joint System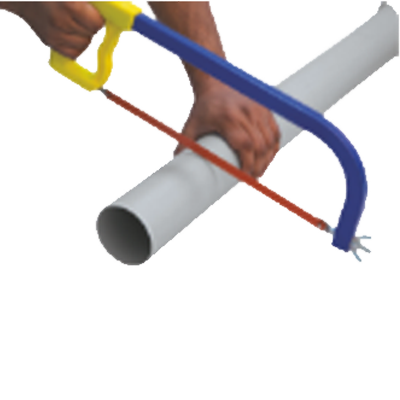 ---
Cutting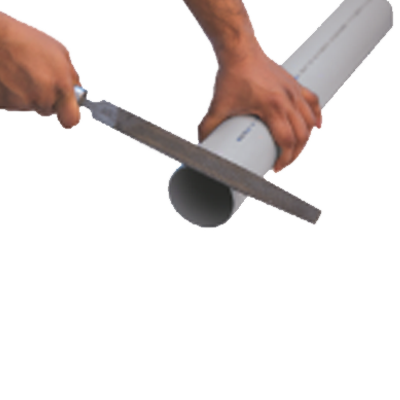 ---
De-Burring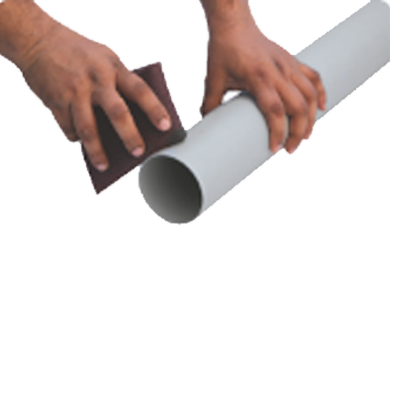 ---
Cleaning/Dry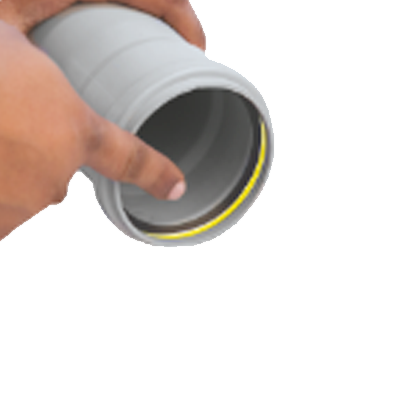 ---
Check for Rubber Ring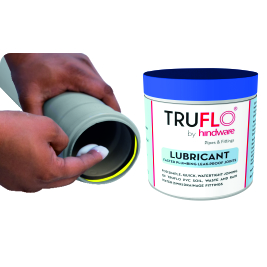 ---
Apply Lubricant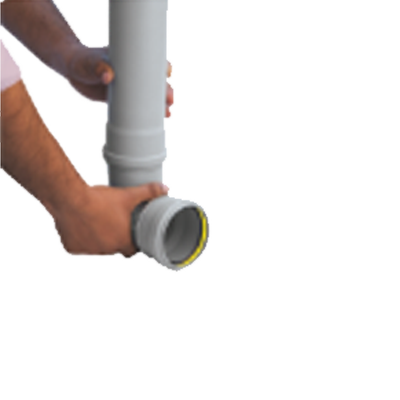 ---
Assembly
B. Installation for Solvent Cemented Joint System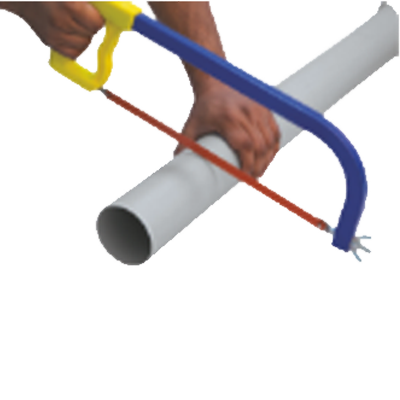 ---
Cutting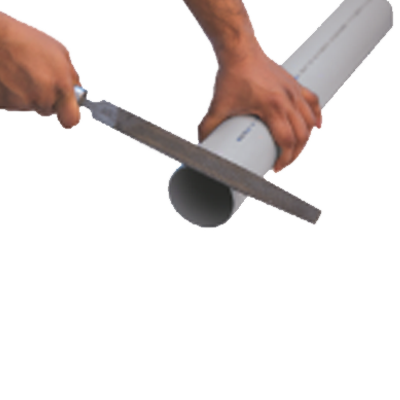 ---
De-Burring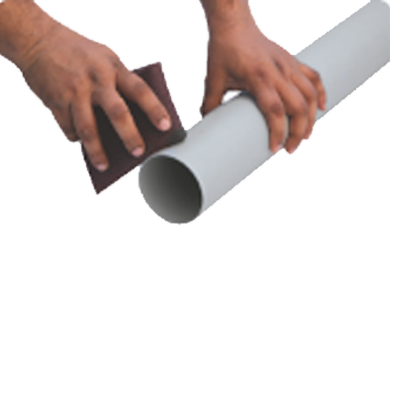 ---
Cleaning/Dry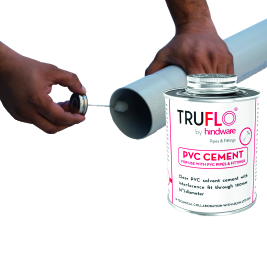 ---
Solvent Cementing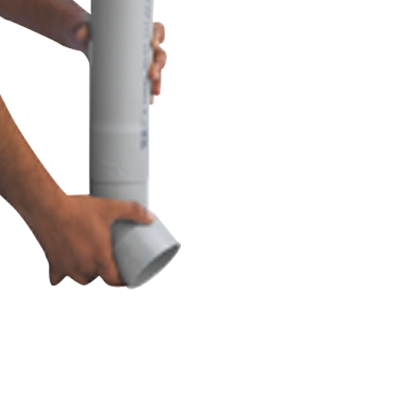 ---
Assembly
COLOUR CODING (PRINTING OF PIPES)
TYPE OF PIPE
COLOUR
IMAGE
Type A
Blue strip
Type B
White strip
Superior quality SWR pipes & fittings
Truflo is a leading SWR pipes and fittings manufacturer. Its SWR (Soil, Waste and Rain) drainage system pipes and fittings are designed to meet the superior quality standards in terms of strength and other required mechanical aspects. SWR pipes have successfully replaced the conventional copper, asbestos cement, and iron drainage system. We hold expertise in manufacturing of SWR Pipes, which are widely acknowledged by the clients for their high quality, durability, and long service life. Our SWR Pipes are available to the clients in varied sizes and dimensions to suit their unique requirement. Truflo ISI Marked pipes are available in two types:
Type I – Used for the ventilation system and rainwater harvesting applications.
Type II – Used for soil and waste discharge systems.
Truflo SWR pipes have integrated ring support for quick and easy installation. Since the ring is pre-fitted in the groove of the socket, it is permanently positioned. The joint is made simply by pushing the spigot end into the socket end.
SWR fittings come with Self-Fit and Ring-Fit options; an array of products and accessories with great installation options and a top-quality finish. Truflo SWR Pipes & Fittings are manufactured in accordance with Bureau of Indian Standards (BIS) Specifications IS:13592 and IS 14735. The Self-Fit options include floor trap with single outlet, multi floor trap, Q trap, S trap, end plug for multi floor trap, bell mount trap, round jali, vent cowl, gully trap with jali(Square type), gully trap without jali (square type), WC connector (bend, straight), Nahani trap with and without jali, pipe clip, P trap, and P trap long among various others. The Ring Fit options include different variants in bends, single tees, cleaning pipes, couplers, repair coupler, accentric reducer, and more available in different sizes to fit the specific requirements of your applications. Truflo SWR piping systems come with integrated ring support that makes the installation trouble-free. They are watertight, and the installation process does not require much human workforce.
Applications and Benefits of SWR Pipes & Fittings:
Soil, Waste and Rain Water (SWR) Pipes & fittings are used for drainage & sewage applications at homes, offices, hotels, industries, hospitals, as well as public places such as airports, railway stations, bus stands etc.
The various benefits of Truflo SWR pipes and fittings are:
Chemical and corrosion-resistant.
Lightweight in comparison to traditional asbestos cement and copper iron pipes.
Manufactured with the highest quality standards and in a wide range.
Strong and long-lasting.
High flow rate, which is a result of a neatly finished inner surface. Thus, it puts an end to all the clogging and choking problems of drains.
Quick and standard installation
Elegant appearance